AJ - Brian - Howie - Kevin - Nick - Time Line - Group Bios - Home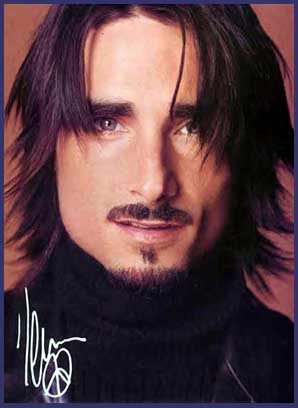 Quote: "To all my family and friends, thank you for always being there to help me keep my feet on the ground."
Please feel free to email us with any updates or corrections to this bio.
Kevin was born on October 3'rd '71. For those of you who believe that he was born in 1972, click here to listen to Kevin say it himself in real audio (40K).
Kevin is Brian's cousin and lived on a farm until he was 9 years old. Later he lived in a log cabin until he was 18. When he was a kid in school he played little league football, rode horses and dirtbikes. He got his first keyboard when he was a freshman and was a member of the school's drama club and chorus. Before he joined BSB, he worked at Walt Disney World in Florida.
His favorite color is royal blue. His favorite food is "mom's cooking". He likes to make the most of the little time that he has so that he can concentrate on getting his personal life in order.
Kevin says that he would like to work on his sleeping habits. He is so busy that when he does get some free time, he doesn't want to waste it sleeping! When he gets back to his hotel room after a concert he likes to watch TV, read, write music and play video games with Nick. There's just no time for sleep!
Full Name:
Kevin Scott Richardson
Birthday:
October 3, 1971
Birthplace:
Lexington, KY
Astrological Sign:
Libra
Pets:
A black cat named Quincy
Favorite Colours:
Blue, Black and Purple
Hobbies:
Playing keyboards, water skiing, swimming, surfing, basketball and hockey
Favorite Food:
Mexican and anything Asian
Favorite Music:
R. Kelly, Prince, Babyface and Teddy Riley
Favorite Movies:
Top Gun and The Shawshank Redemption
Favorite TV Shows:
Roseanne and Martin
Favorite Book:
Interview with the Vampire
Favorite Film Stars:
Tom Cruise and Nicole Kidman
Favorite Foreign Country:
Sweden
Unique Talents:
ballroom dance instructor
What he looks for
in a girl

pretty & sexy
able to talk openly and honestly with him
intelligent
nice smile
most important - she has to be ready for commitment because he wants to be a Daddy someday!

Dream Date
nice restaurant then maybe dancing or a movie afterward
Profile Kevin Richardson: The eyes have it
By Heather Svokos, HERALD-LEADER POP CULTURE WRITER
Published Sunday, November 21, 1999, in the Herald-Leader
Maybe it's those emerald eyes. The way they just stare at you from under those caterpillar eyebrows, as if to say: ``People magazine called me the sexiest pop star alive, but I'm just a really shy guy who likes to sing.''
Maybe it's his Backstreet Boys reputation as The Smooth One. The Serious One. The Gentleman.
Whatever it is, it just doesn't scream ``killer.''
But according to his old football coach, there were two Kevin Richardsons. ``He was Dr. Jekyll and Mr. Hyde on and off the football field,'' said Hoover Niece, who coached at Estill County High for 25 years and still teaches there.
Off the field Richardson was shy, congenial, gentlemanly ... ``It was: `Yes, sir,' `No, ma'am,' '' recalled Niece.
But on the field, he was an animal. ``I loved contact. I loved hitting people,'' Richardson said with a laugh from the BSB's Cincinnati tour stop. ``I think it was just a release for me.''
Give him a few seconds, and another of his personas will burble to the surface: The Perfectionist.
``Now that I look back, I wish I would've played more of a mental game because sometimes I was over-aggressive and I would overrun a play. I would've been a better player if I could've controlled it a little more. But I was just out of control.''
Now, it seems, Jekyll and Hyde have made their peace within. On stage, his suave, in-control persona makes room for his inner-maniac.
At 27, Richardson is the veteran of the group, but he still bolts around the stage, pumping and bumping and grinding with the other guys like there's no tomorrow.
``I dance real aggressive, real hard,'' he said. ``There are songs that are hard dance routines where you dance hard and real physical, and there are routines where you dance smooth, where you're like a cool cat, a Fred Astaire type vibe.''
The music in him
Of course, Richardson will be bringing Jekyll, Hyde and Mr. Astaire to Rupp Arena next weekend, which gives him a special thrill.
Through the years, he's taken in an array of Rupp shows: AC-DC, Bon Jovi, The Judds, Poison, Cinderella, Garth Brooks ... .
``My first ever, ever concert was Ike and Tina Turner, when my mom was nine months pregnant with me,'' Richardson said. ``I think I felt vibrations from that and it triggered my love of music.''
For the record: ``My first real concert that I attended in the flesh was Donny and Marie.''
Kevin's early years with his family father Jerald, a construction worker who helped build Kincaid Tower; mother Ann, then a homemaker, and older brothers Jerald and Tim were spent in Harrodsburg on a 10-acre farm, complete with ponies, cows and chickens. The family grew their own vegetables and raised pork and beef.
The boys were always outdoors, in the winter playing tackle football on a frozen pond. ``All three of them absolutely loved it there,'' Ann Richardson said. ``I'm so glad I raised them in the country.''
As with her brother's (Harold Littrell, father of Brian) family, church was a constant, and Kevin sang in the choir. But he was a shy kid, so ``he was always the one hiding in the back,'' his mother said.
In 1981, the family moved to Estill County, where Jerald Sr. managed a summer camp. That's when Kevin discovered the piano in the mess hall. He started goofing around and taught himself to play. Ever since, he's rarely seen without a keyboard by his side.
``Kevin was always pulling his music out,'' recalled friend and former teammate Jeremy Niece (coach Niece's son). ``He would always write songs and sing them to us. He made tapes, played the piano and synthesizer. We said, `Man, that's pretty good stuff, you oughta turn that in.' ''
Playing the part
He also got plenty of encouragement from one of his mentors, Kathie Bettler, who then taught drama at Estill County High. (She's now at Madison Southern High in Berea.)
``She was one of the first to inspire and believe in me, who first recognized that I had acting ability,'' Kevin said.
A proud Bettler remembers Kevin's natural talent and hard work. And she remembers him bringing down the house as Conrad Birdie in Bye Bye Birdie. ``There was a scene where all the girls in the audience had to faint,'' she said, ``and I was afraid that would really happen and I would have to stop the play.''
It's easy, Bettler said, for kids in the arts to think: `` `I'd love to do this, but I can't.' I just encouraged him to try it. I always thought that he had everything it took to make it big. And he certainly did.''
Throughout high school, he toyed with several career ambitions flying was always a dream, so he thought about joining the Air Force band, and he would occasionally talk about coaching high school football. But his performing side was tugging too hard. After graduation he was ready to head for the New York American Music and Dramatic Academy in Manhattan.
Bound for Backstreet
Then he heard about performing opportunities in the Magic Kingdom.
``He and his friend Jimmy Durham thought they would leave Kentucky,'' Ann Richardson said. ``Being from a small town, they knew there weren't as many opportunities. They wanted to get out and see the world.''
And Disney was an oasis of gigs: tour guide, performer, Goofy, Aladdin, Leonardo (as in Ninja Turtle) ... .
With his career on the rise, this should have been a glorious time for Kevin, but the early '90s were marked by personal tragedy. In October 1990, his father was diagnosed with colon cancer, which worsened in June 1991.
``So we called Kevin, and he decided to come back home,'' Ann Richardson said. He got a job and stayed for the family. His father died in August that year. After that, Kevin had to go back to what he knew, Ann Richardson said.
``I think (work) helped him get through it. He had to lose himself. He does miss his dad, I know that.''
Not long after moving back, Kevin ran smack-dab into the opportunity of a lifetime: Backstreet Boys.
Since then, it's been a whirlwind rise to fame, and Kevin and cousin Brian Littrell are glad they've been able to share the craziness known as BSB.
``He's the general out here,'' Brian said. ``He has really taken me under his wing. Six years ago ... he had been on his own a little longer, so I looked up to him as a decision-maker. Our relationship has grown to the point where we make our own decisions man-to-man. We both respect each other very highly, and sometimes we have very, very different opinions.''
Said Kevin: ``I can't think of it without him. We complement each other. When I'm uptight he loosens me up; when he's lackadaisical, I help focus him.''
The same can be said for Kevin with the rest of the group. ``Now I know what I put my older brothers through,'' he said, laughing.
Since BSB skyrocketed to superstardom in the United States, the guys and their families have learned to deal with the pitfalls and perks of fame.
``I'm sure he's proud,'' said his friend Jeremy Niece. ``But he'd love to be able to walk into a Wal-Mart, too, and have nobody attack him.''
One of the perks, of course, is the money (Kevin bought his mom a Mercedes for her birthday. ``He made me get it,'' she said, rolling her eyes, smiling.) especially now that they'll be seeing more of it. In May, the group sued its former manager, Louis J. Pearlman, and others in his company. BSB accused Pearlman of snagging $10 million of its revenue, leaving the quintet with a grand total of $300,000.
Now, under new management, with a renewed contract with Jive Records speculated to pay up to $60 million, Richardson is resting a bit easier.
``Now that we have new management, we communicate and it's like a team,'' he said.
Superstardom is nice and all, but this Richardson says he'll never be far from his roots. ``I'm always gonna have a place -- a farm -- in Kentucky. My old Kentucky home.''
AJ - Brian - Howie - Kevin - Nick - Time Line - Group Bios - Home